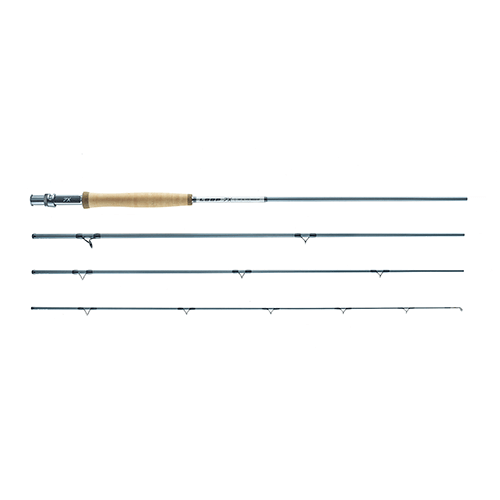 Regulärer Preis
$1,570.00
Verkaufspreis
$1,570.00
Regulärer Preis
incl. VAT
Article description
Shipping & Returns
7X Single Hand
The new
7X Single Hand
Fliegenruten von LOOP Tackle sind eine Revolution im Bereich der Ruten - die erste Large Arbor Rolle von LOOP zeigte den Weg zu einem neuen Standard. Hier handelt es sich um die selbe innovative Entwicklungsebene.
Seit einigen Monaten fischen wir die 7X Fliegenruten in vielen Ländern und auf dievere Fische. Von der Äsche bis zum Blanklachs - wer das bestmögliche und perfekte sucht, der ist genau hier richtig.
Das innovative Heptagondesign ermöglicht es den Overlap mehr oder weniger komplett zu elemieren.
Mit den 19 verschiedenen Modellen werden absolut alle Bereiche abgedeckt. Trocken, Euronymphing, Stillwasser, Hitchen, Zweihand und Salzwasser ! You name it - we have it !
After many years of constantly challenging ourselves as a company to extend the boundaries of modern fly rod design, we take great pride in the launch of what we truly believe to be highest performance fly rod range we have ever made: The LOOP 7X
Our 7X rod series introduces the innovative design and performance advantages of the exclusive and pioneering 7X blank construction process. This patented technology optimises power transfer and enhances rod tracking for both accuracy and maximum energy efficiency.
The 7X's superior casting performance is due to the geometric advantages inherent within its shape, resulting in accelerated and rapid dampening of the rod during the energy transitions of a casting cycle.
The 7X design with its 2-3-2 structural support eliminates "spine effect" and broadens the versatility beyond the conventional over hand cast and underhand casting techniques. The 7X Series provides equal precision and power in a multitude of casting actions including the sidearm or backhand cast which are often required in many demanding sport fisheries.
The 7X Series is both lighter and stronger than conventional circular fly rod construction and the ultra efficient energy transmission results in the enhancement of:
•accuracy
•presentation
•performance
•versatility
Loop has a proud history of fly fishing tackle innovation and invite anglers to explore our latest fly rod technology.
[embed]https://www.youtube.com/watch?v=jbIyNqe_E8M[/embed]
Here are more articles from  
Loop Tackle AB
.
Join me on 
Facebook
 or 
Instagram
We ship daily around noon with DHL GOGREEN and automatically send a tracking link
We deliver worldwide.
The shipping costs at a glance:
Germany
Shipping fee 6,90€ - Free shipping from 50,00€ order value
Austria, Belgium, Bulgaria, Croatia, Cyprus, Czech Republic, Denmark, Estonia, Finland, France, Greece, Hungary, Ireland, Italy, Latvia, Lithuania, Luxembourg, Malta, Netherlands, Poland, Portugal, Romania, Spain, Sweden
Shipping fee 6,90€ - Free shipping from 100,00€ order value
Liechtenstein, Norway, Switzerland and United Kingdom England
Shipping fee 9,90€ - Free shipping from 250,00€ order value
Rest of the world
Shipping fee 25,00€ - Free shipping from 500,00€ order value
In principle, the customer bears the direct costs for the return of the goods. We reserve the right to refund the return costs in individual cases as a gesture of goodwill.
The shipping costs are clearly communicated to you again in the shopping cart system and on the order page. By entering the shipping address ( country ), the correct shipping amount is automatically displayed.
The flat shipping rate includes the statutory value added tax. Since the VAT on the flat shipping rate is calculated depending on the goods purchased, it may be reduced if goods are purchased at lower VAT rates (e.g. when purchasing books). This means that the shipping fee can only be finally calculated during the ordering process. However, it cannot become higher in the process, but only lower in your favor